Rotary Damper Disk Damper for Auditorium Seating
| | |
| --- | --- |
| Model No.: | DQ47A-B |
| Min. Order: | 100 Piece/Pieces |
| Payment Type: | T/T |
| Transportation: | Ocean,Air |
| Productivity: | 1000000 |
| Packaging: | Standard export package |
| Delivery Time: | 20 Days |
| Place of Origin: | China |
| Brand: | ABD |
| Certificate: | ISO9001:2015 |
Product Description
ABD disk dampers provide energy absorption and rotational deceleration. Steel body rotary disk damper for auditorium seating soft close, infinite angle rotation. The direction for damping torque of ABD disk rotary dampers with a steel body is bi-directional. Our disk dampers are the perfect solution for a wide range of applications, from wall chairs, and auto seats to auditorium seating to. ABD Disk dampers are designed to control and smooth out the opening and closing of lids, and doors.This smooth deceleration provides and anti-slam function. When auditorium seating rotary damper disk damper use in the seat, it will keep the seat close silently and slowly. ABD disk dampers are crucial for many products which require safety, high quality and durability solutions. ABD auditorium seating disk dampers are easy to install.Once installed, they are increasing equipment life and reducing maintenance expenses.
.
Welcome to purchase high quality and precise auditorium seating disk dampers from A.B.D. Equipment Co., Ltd. - one of the leading such manufacturers and suppliers. We have been specialized in this field for many years. We have the perfect after-sales service and technical support. If you are interested in any of auditorium seating disk dampers or would like to discuss a custom order, please feel free to contact us. Don't hesitate any more.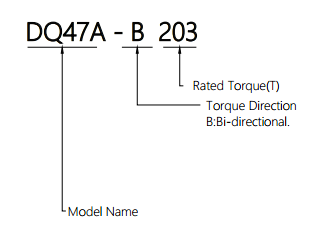 Specifications
Part No.
Applied Torque(T) (Kgf.cm )
A
B
C
D
E
F
G
H
R
V
DQ47A
502-203
5~20Kgf.cm
65
56
8
4.5
47
42.8
1.2
10.3
4.5
10
DQ51A
103-303
10~30Kgf.cm
72
62
10
5.5
51
47.1
1.2
10.3
5.5
13
DQ57A
203-503
20~50Kgf.cm
79
68
10
5.5
57
52.4
1.6
10.3
5.5
13
DQ63A
403-703
40~70Kgf.cm
89
76
12.5
6.5
63
58.6
1.6
10.3
6.5
17
DQ70A
603-104
60~100Kgf.cm
95
82
12.5
6.5
70
65.4
1.6
10.3
6.5
17
NOTE:
1. Please contact the corresponding product engineer for specific torque products.
2. Max. rotation speed: 50r/min
3. Max. circle rate: 6 cycle/min ( Clockwise360 °, 360 ° anti-clockwise for 1 cycle)
4.Operating temperature: -10~50℃
5.Storage temperature:-30~80℃
Drawings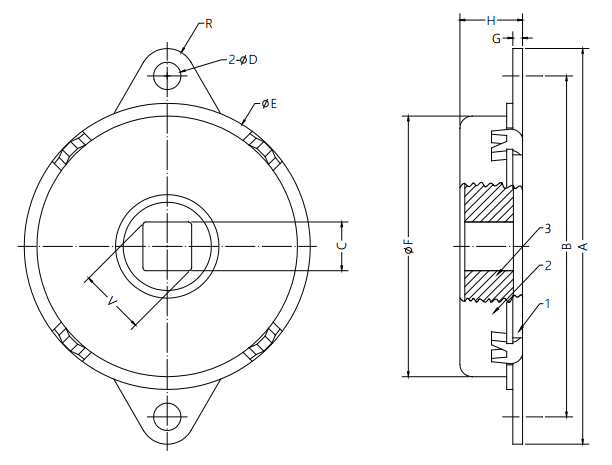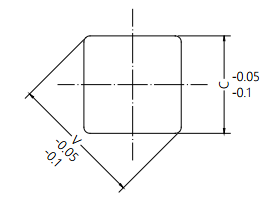 The damper square hole coordinates with the rotation axis dimension tolerance.
Materials
| | | |
| --- | --- | --- |
| 3 | Shaft | PA/POM |
| 2 | Cover | SPFC |
| 1 | Shell | SPFC |
| NO. | Description | Material |
Damper Characteristics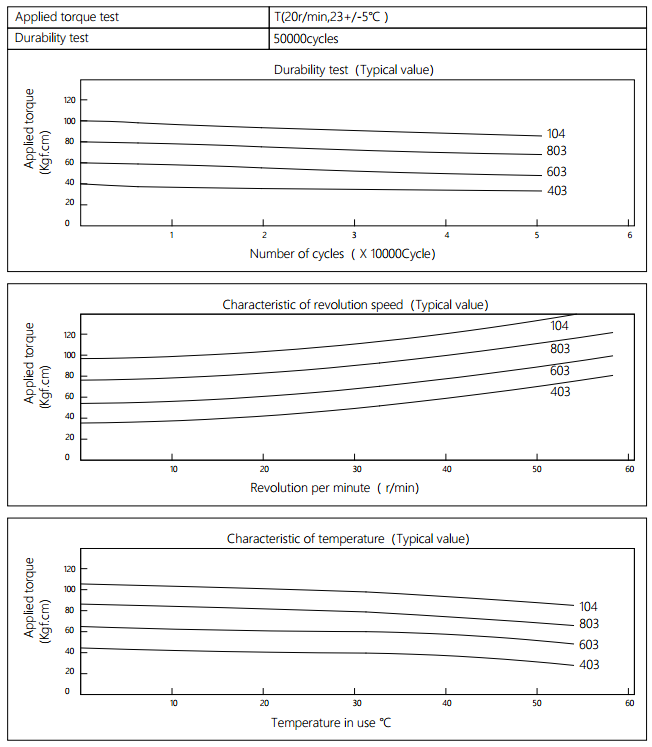 Applied torque: (T)
Test Temperature:23+/-5℃
Rotating speed:20r/min
Durability test Method:Clockwise 360 °, 360 °anti-clockwise
Rotating speed:20r/min
Test Frequency:(1cycle/min)
Test Temperature: 23±5℃
Durability test cycle: 50000 cycle
Test result criteria: Store in the room temperature for 24 hours or more after the test, recording to the torque T=T±30%T.
How to use the damper
1.Dampers may generate torque in both directions, clockwise, or counter-clockwise.
2.Please make sure that a shaft attached to a damper has a bearing, as the damper itself is not fitted with one.
3.please refer to the recommended dimensions below when creating a shaft for DQ47A-B. Not using the recommended shaft dimensions may cause the shaft to slip out.
Applications
Theater seats, auditorium seating, wall chairs, scanner, office equipment, furniture equipment, commercial equipment, auto seats, auto seat back plate, rotating mechanisms and many other cover plates, etc.
Caution
1. Do not operate without sufficient mounting strength.
2. Do not operate without an external stopper.
3. Using dampers beyond the specified.
4. Please do not use under the oil or vacuum environment.
5. Do not discard abandoned damper.
6. Radial load to the shaft.
7. Over-tightening of mounting screws.
8. Using dampers beyond the durability.

Our Company
ABD Equipment Co., Ltd. focuses on lean manufacturing of precision components in molding, assembly and quality management. The main products we develop and design include precision motion hinges, damping components, motor gearbox drive components, lock bodies and stop mechanisms for motion control related products.

ABD's products are widely used in household appliances, electrical products, industrial manufacturing, furniture decoration, hutch defends equipment, public facilities, etc. Our products is conducive to performing structural movement in soft, silent and safe environment, mitigating impact load, avoiding strike damage, prolonging mechanical life, reducing noise disturbance, improving product quality and improve customer satisfaction.

Our products range from barrel damper, vane damper, stop damper, gear damper, disk damper, shaft damper, shock damper, damping gas spring. Feel free to contact us if you are interested in any of the ABD products and services.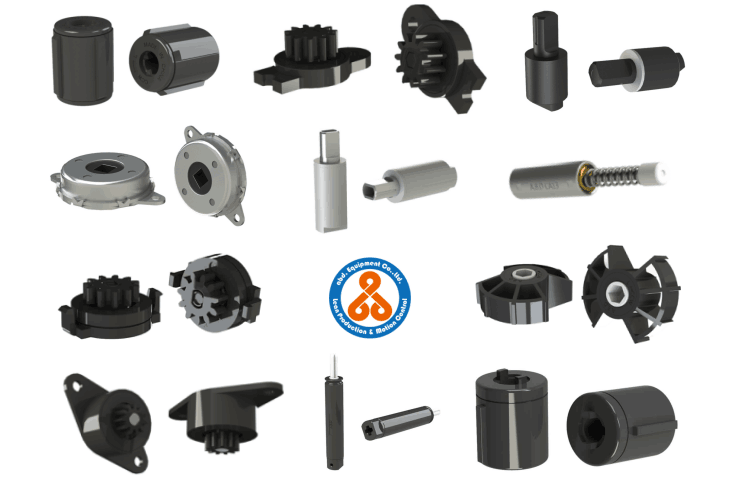 http://www.abddamper.com