Big Rotary Gear Damper For Small Household Appliance
| | |
| --- | --- |
| Model No.: | DC25A |
| Min. Order: | 100 Piece/Pieces |
| Payment Type: | T/T |
| Transportation: | Ocean,Air |
| Productivity: | 1000000 |
| Packaging: | Standard export package |
| Delivery Time: | 20 Days |
| Place of Origin: | China |
| Brand: | ABD |
| Certificate: | ISO9001:2015 |
Product Description
Big rotary gear damper for small household appliance. ABD big rotary gear dampers are used to dampen drives, control speed, and many other applications. ABD silicone oil viscous dampers are available in either fixed rate or adjustable models. The damping direction of the big rotary gear dampers with continuous rotation can be clockwise, counter clockwise, or in both directions. In small household appliance big rotary gear damper with continuous rotation, a fluid damping is produced by the shearing or braking force of silicon fluids resistance between the surfaces of a rotor and a stator. The big rotary gear damping moment is determined by the viscosity of the fluid and the size of the orifice or gap.ABD gear dampers are crucial for many products which require safety, high quality and durability solutions. ABD small household appliance big rotary gear dampers are easy to install. Once installed, they are increasing equipment life and totally maintenance free.
Welcome to purchase high quality and small household appliance big rotary gear dampers from A.B.D. Equipment Co., Ltd. - one of the leading such manufacturers and suppliers. Our products with advantages of excellent quality, competitive price, and best service are your first choice. If you have interest in our small household appliance gear dampers or require any further information, please do not hesitate to contact me.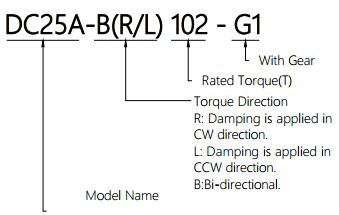 Applied Torque(T)
(gf.cm )
501
500±50gf.cm
102
1000±70gf.cm
152
1500±80gf.cm
202
2000±90gf.cm
252
2500±100gf.cm
NOTE:
1. Please contact the corresponding product engineer for specific torque products.
2. Max. rotation speed: 50r/min
3. Max. circle rate: 6 cycle/min(Clockwise360 °, 360 ° anti-clockwise for 1 cycle)
4. Operating temperature: -10~50℃
5. Storage temperature:-30~80℃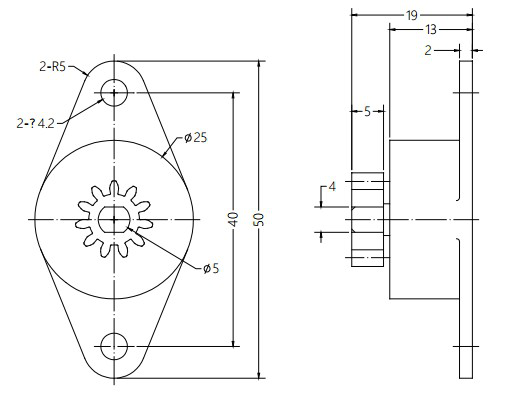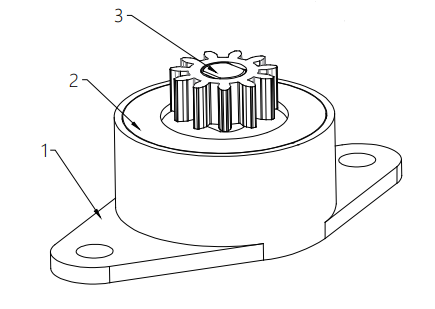 | | | |
| --- | --- | --- |
| 3 | Shaft | SUS |
| 2 | Cover | PC |
| 1 | Shell | PC |
| NO. | Description | Material |
Gear specification
Tooth profile
Full depth tooth
Pressure angle
25°
Module
G1:1.05
Number of teeth
G1:12
P.C.D.(mm)
G1:Ø12.6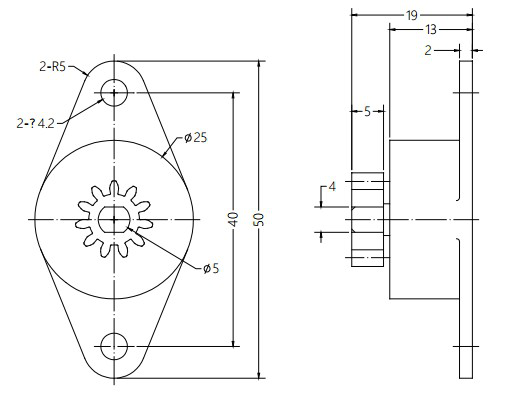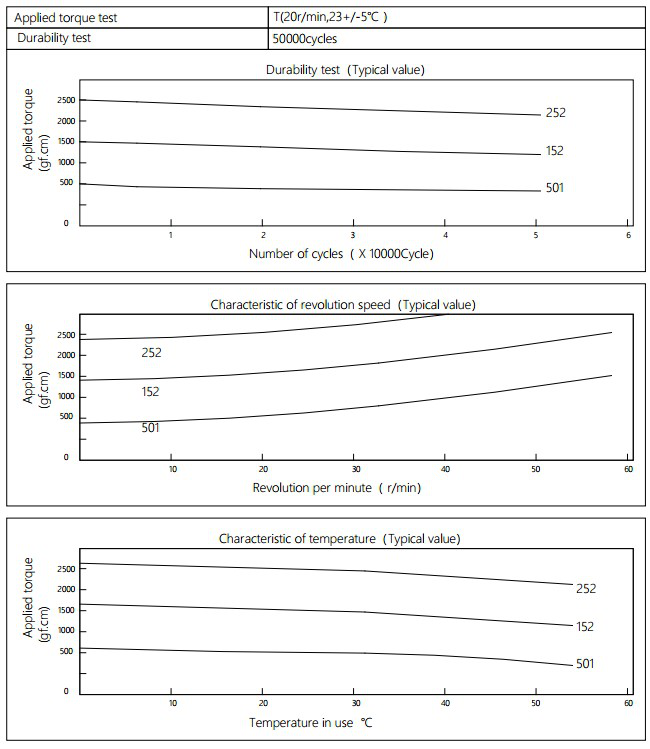 Applied torque:(T)
Test Temperature: 23+/-5℃
Rotating speed:20r/min
Durability test Method: Clockwise 360 °, 360 ° anti-clockwise
Rotating speed:20r/min
Test Frequency: 1cycle/min
Test Temperature: 23±5℃
Durability test cycle: 50000cycle
Test result criteria: Store in the room temperature for 24 hours or more after the test, recording to the torque T=T±30%T.
Applications
Electrical products,household appliances,automobile interior decoration,furniture equipment,office equipment,rotating mechanism and many other cover plates, etc.
Caution
1. Do not operate without sufficient mounting strength.
2. Do not operate without an external stopper.
3. Using dampers beyond the specified.
4. Please do not use under the oil or vacuum environment.
5. Do not discard abandoned damper.
6. Radial load to the shaft.
7. Over-tightening of mounting screws.
8. Using dampers beyond the durability.

Our Company
ABD Equipment Co., Ltd. focuses on lean manufacturing of precision components in molding, assembly and quality management. The main products we develop and design include precision motion hinges, damping components, motor gearbox drive components, lock bodies and stop mechanisms for motion control related products.

ABD's products are widely used in household appliances, electrical products, industrial manufacturing, furniture decoration, hutch defends equipment, public facilities, etc. Our products is conducive to performing structural movement in soft, silent and safe environment, mitigating impact load, avoiding strike damage, prolonging mechanical life, reducing noise disturbance, improving product quality and improve customer satisfaction.

Our products range from barrel damper, vane damper, stop damper, gear damper, disk damper, shaft damper, shock damper, damping gas spring. Feel free to contact us if you are interested in any of the ABD products and services.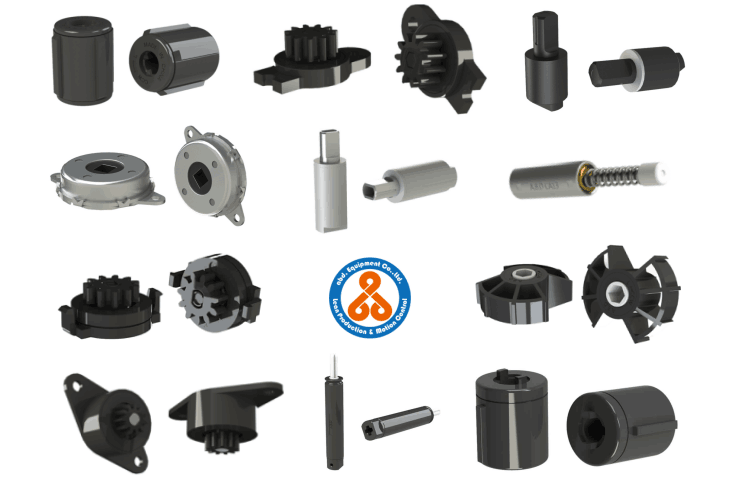 http://www.abddamper.com